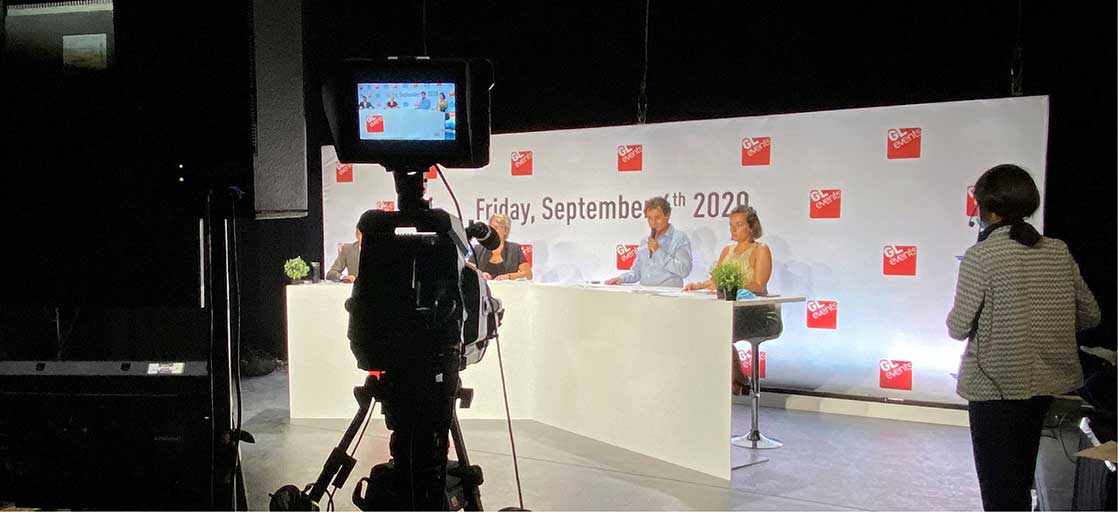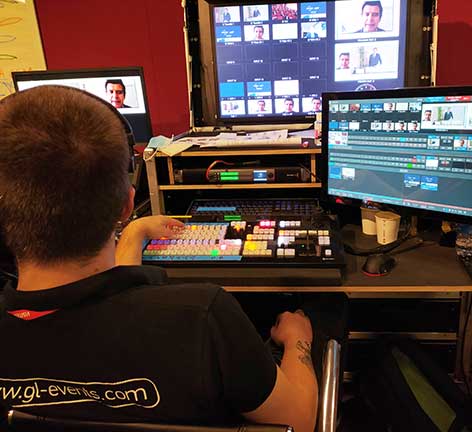 The digital extension for your events, a solution to the crisis
Because physical experiences and meetings are sometimes more complicated to put into application (the COVID 19 health crisis is the perfect example), you can digitalize your event. All our event creation and management professions are capable of creating experiences that will meet your objectives by calling on connected events combining physical presence – in compliance with authorized standards - and remote connection.
Our connected solutions for your virtual event
With our hybrid solutions you can bring large numbers of participants together onsite and online, deliver live content to them, and let them interact with other participants, speakers, and sponsors, irrespective of whether streaming, content capture, and delivery online is concerned, or by duplexing where speakers on the other side of the world can interact with both your venue and your online audience. We know how to create the combined physical and digital experiences needed to attain the targets you require for your "phygital" event.
Multiplex, a connected alternative to a meeting at a single venues
The location of our 50 sites in major business tourism destinations enables us to offer to hold your event in several regional or international hubs simultaneously, thanks to the magic of digital technology. Your participants can meet at the venue closest to their home but also online if they are unable to travel. To offer this service, we propose a coordinated and responsible turnkey solution, for guaranteeing that your digital event is a success.
GL events, a global player in the event industry, offers you a tailor-made digital project
Our teams give you support at every stage in designing and organizing your project: a remote event, a digital exhibition, or a "phygital" conference... "Live by", the group's event agency, can help you create the contents of your virtual event; our network of sites, endowed with full-comfort infrastructures and top-quality services, will welcome your event on-site and determine, in conjunction with our audiovisual teams, the technical solutions needed to make your hybrid event a total success.
Create value with your hybrid event
A hybrid event no matter whether it be by streaming, duplex, or multiplex is a new way of engaging your audience: the experience is enhanced "live" or on-demand, interactively, and without any limitations in terms of space. The temporality of the digital event is also different: your content is accessible without any time limits. You have access to new sources of revenue and data for analyzing the coverage of your event. Do not hesitate to contact us to decide upon the hybrid event of your choice together!